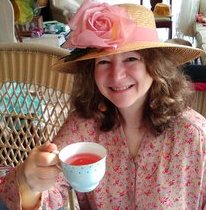 Tea for Two
A 15-minute concentrated tapping session.  Do not be fooled by this brief span of time.  Tapping works very quickly to gently and profoundly help you de-stress.  Perfect for when you are at your wit's end, or unduly stressed or anxious. 
Beyond soothing, you may find yourself feeling significantly calmer, more positive, and able to see new perspectives. By telephone.  $30.

As with various kinds of wellness approaches, regular tapping sessions build upon one another to yield even greater results.
One Tea Tapping Session: $30
Purchase
Five Tea Tapping Sessions:  $130  Save $20
Purchase
Ten Tea Tapping Sessions:  $250  Save $50
Purchase
♥♥♥
Do you want to help a friend or relative?  In addition to deeply nurturing yourself, tea tapping sessions could be the perfect gift for a friend or loved one.  Everyone is stressed!  Some have quite a lot on their plate to handle.  And some are truly struggling, feeling overwhelmed or anxious.  Why not consider the possibility of giving these sessions as birthday, holiday, or "just because" gifts.


Gift Certificates:  I will be happy to provide a personalized (online) gift certificate for just this occasion.   Click here to see what the certificate looks like.
Save
Save
Save
Save
Save
Save
Save
Save
Save
Save
Save
Save
Save
Save
Save
Save
Save
Save
Save
Save
Save
Save
Save
Save
Save
Save
Save
Save
Save
Save
Save
Save
Save
Save
Save
Save
Save
Save
Save
Save
Save
Save
Save
Save
Save
Save
Save
Save
Save
Save
Save
Save
Save
Save
Save
Save
Save
Save
Save
Save
Save
Save
Save
Save
Save
Save
Save
Save
Save
Save
Save
Save
Save
Save
Save
Save
Save
Save
Save
Save
Save
Save
Save
Save
Save
Save
Save
Save